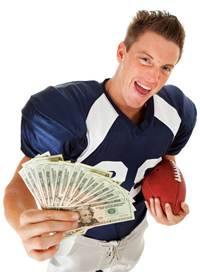 Living in Boston for as long as I did, I always was amazed at Tim Wakefield. Yes, he pitched for 20+ years and threw a knuckle ball effectively for most of those years. Those are things to be impressed with but not what I am going to refer to today. You see, Tim Wakefield in a lot of ways was ahead of his time. He actually was doing something for years that now will become normal – let's call him a trend setter!
For years Tim signed a one year contract. It didn't matter how he did, he always signed a one year deal. Perhaps he was most comfortable with that or the team insisted it or there was some other reason. The interesting thing in my opinion is that it is what the future will be for most pro athletes. By most I will define as 75%. Yes, superstars in baseball, basketball, hockey and football will always get their money and longer term deals than the average athlete. The thing is, there are not a ton of superstars. Perhaps 20 or 30 in every sport and to be frank, but how many of those superstars turn out to be worth the money and the big contract they sign? AROD, Josh Beckett, Gary Mathews Jr., and AJ Burnett all signed big deals – none of them were worth it. That will be a topic for a different day.
Let's get back to one year deals. The extra expense of the luxury tax for these professional teams is as real as the fact that most athletes aren't worth a long term deal. This will force most of them into one year deals.
I believe this helps the teams with financial freedom and also minimizes ugly long term contracts that ultimately affect the paying customer (you and me) with higher priced seats.
It might take a number of years to get to the level of one year deals that I am referring to, but I truly believe it will happen.
What do you think?
Would you like it to go this way?
Do you believe most long term contracts aren't worth it?
I look forward to reading your comments.