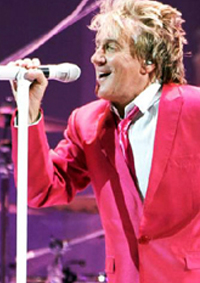 Last month I had the opportunity to attend a Rod Stewart show in Las Vegas with AVS, FM and CM – great time guys! As a follow-up, Ticketmaster sent me an email to write a review. Really? That's the follow up you wanted to have with me?
Here are a few of my thoughts – we had a great time at the concert. Rod Stewart was amazing. His passion and audience engagement was off the chart. His energy and charisma would make any 20 year old jealous. Why aren't you selling me something as opposed to asking me to write a review?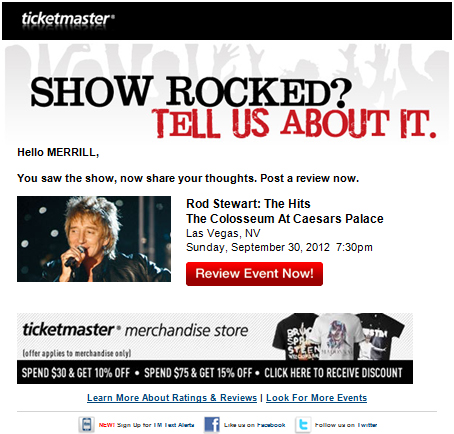 I am teed up perfect to buy something – so sell me something.
How about a limited edition book? Sold!
How about a video of the performance? Sold!
How about an autographed piece of memorabilia? Sold!
How about a signed soccer ball that I didn't have a chance to catch? Sold
How about selling me tickets to a future concert in Dallas?
How about selling me a CD?
The funny thing about it is I would have bought a bunch of things. Remember, Ticketmaster knows a ton about me: where I live, credit card information, email address and what type of music I like for starters. I am one who believes they should use it to their advantage.
What do you think?
Do you believe this strategy would work?
Would you buy something from Ticketmaster after a concert?
I look forward to reading your comments.
PS – I understand that Ticketmaster would have to work out licensing and revenue share agreements with Rod Stewart, Caesar's Palace and others – but let's assume all of that can be worked out.