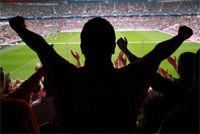 Lots of the readers of the blog are sports fans and travel around. Today's post will be a quick and fun quiz. Let's say while you are traveling around, there is a sporting event in the city you are in. The tickets are reasonably priced, the arena is very close to your hotel, and you don't have an early morning meeting meaning it's almost a perfect time to do something fun in the city you are in. Your favorite team isn't in town and you really don't have any vested interest in the two teams playing except there is a superstar that is playing in the game.
The question is, "Are they a draw for you to attend the game?"
I look forward to reading your comments.