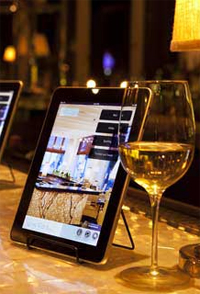 Last month I was in Vegas with AVS and our friends CM and FM. While we were at dinner, something really cool happened. We were at the Palazzo casino and eating at a restaurant called CUT. As the server was taking our drink order they handed us an iPad. I knew Vegas gives away lots of things but an iPad? Much to my disappointment they were loaning it too us for the time we were in the restaurant. The server was very nice and explained the iPad and how it worked and how we could navigate thru their very extensive wine list.
This program was cool, very informative, interactive and extremely impressive. The program couldn't be used to order wine – it was more of a guide. Still, in my mind, it was a great idea. Of course this gave me a reason to pause and think about different enhancements of this program.
Here are my first five thoughts:
Allow the guests of the restaurant to order their glass or bottle of wine
Have the guests include a review of the wine
Fill out an online survey as your finishing each course – somehow have that linked to the manager and or chef of the restaurant
After dinner, allow the guests to order a case of wine and have it shipped to their house
Allow me to leave a review and email 10 of my friends and have the chef prepare something special as a welcoming gift
What are your thoughts?
Have you ever had the wine list on an iPad?
What other applications could they use an iPad in a restaurant?
I look forward to reading your comments.