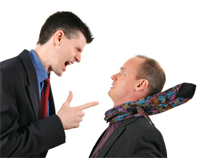 A few weeks ago I went out with two colleagues (B.T. & S.W.) for a quick lunch and we ended up going to a top 3 QSR brand. It was a little later than normal so the lines inside were little to none. After I ordered my meal, I was standing to the right of the register and listening to a conversation from the manager to another employee that went like this:
I asked you to clean up that area – what are you doing?
Why aren't you listening to me?
When I tell you to do something you need to do it!
The discussion – oops wrong word, I meant the berating – was one sided and in front of customers. I was so surprised and had never experienced anything like this in a top quick-serve restaurant before and was a little taken back when I heard and saw what was happening.
When I go to the table to join my colleagues, I discussed the situation and mentioned that I almost said something to the manager which would have gone something like this – "Excuse me, have you been a manager for more than 10 minutes? There is a time and a place to discuss, hopefully train and mentor an employee, but to talk like that in front of customers makes little to no sense."
What would you have done?
Should I have said something?
Have you been in a similar situation?
I look forward to your thoughts.