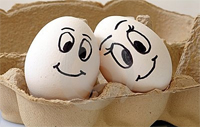 A few weeks ago I was with my kids shopping at a grocery store called Market Street. For those who have never been or heard of the store, it is great. The quality of meat, deli counter, cleanliness of store, ease of finding things is amazing, and the customer service is off the charts.
As I was checking out and getting ready to pay, the cashier said, "Your Eggs Look Great Sir." I paused for a minute and asked her to repeat what she said and of course with a smile she said the exact same thing again as she gently put the eggs in a bag.
I really was impressed what she did and said. A few times I have gotten home and put away the eggs only to find a few cracks in them or totally broken and I am confident because I am an amazing driver (for those of you who know me – please stop laughing) that I didn't inflict the damage on the eggs.
She went above and beyond, made a statement, helped out a customer, and separated what she did from the competition – all positive things that lead to a loyal customer in my mind and a pleasant experience!
So I ask you today…
How is your grocery store experience?
What do you think of what she said to me?
I look forward to reading your comments.