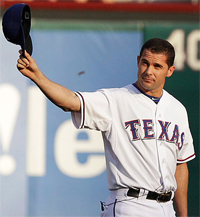 Before I came to Texas I knew very little about Michael Young. I knew he was a good player, above average hitter and a solid shortstop. After watching him play over the past 8 years he is much more than that.
He is a great ballplayer
He is a leader on and off the field
He is a clutch hitter
He is a very charitable person and deeply cares about the community he lives in
He was the face of the Texas Rangers
The reason I say "was" the face of the Texas Rangers is 72 hours ago he accepted a trade to the Philadelphia Phillies. The interesting thing is he accepted the trade – see when you are a 10/5 (10 years in the majors and 5 years with your current team) man in the majors, you have certain rights. You don't have to accept the trade or you can make certain demands (like a contract extension) before you accept a trade. Most athletes do that. In addition they slam their old team and franchise. Again a lot of athletes do that – Michael Young didn't do that. In fact he had a press conference at his own expense to say thank you. He thanked the city the fans and the organization for the last 12 years.
How many athletes do that? Very few. I have never met Michael but I must say that I am sure the past few years have been very difficult on him and his family. He changed positions a number of times. He went from being the man, always at shortstop to playing wherever the manager wanted and needed him. It could have been third, second, first, DH or as a pinch hitter coming off the bench. He constantly was mentioned in trade rumors and never flinched. Never bashed the organization, the city or the leadership/ownership of the Rangers. Many athletes do, but then again, many athletes don't have the class that Michael Young does.
Frankly I wish more athletes were like this Mike!
Do you know much about Michael Young?
How do you think he handled himself?
Can you name a few other classy athletes?
I look forward to reading your comments.