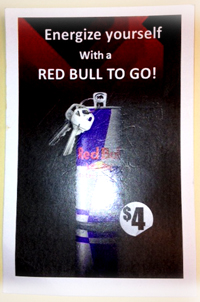 A few weeks ago after a business meeting, I was having lunch with the meeting attendees (M.A., B.K., S.R.) at The Blue Fish Restaurant. As one of them was paying the bill and handing their credit card to the server, I noticed something sticking out that looked a little odd.
Under the itemized bill and under the two credit card receipts was a card that read (look to the right)
ENERGIZE YOURSELF WITH A RED BULL TO GO! $4
I like the picture of the keys hanging off the tab of the opened can.
Of course I paused for a moment and discussed the card, idea, strategy, execution and everything else behind the marketing activity The Blue Fish Restaurant was trying to do.
At the end of the day, I love what they were trying to do, but the execution (more appropriate poor execution) kind of turned me off.
I love the idea of selling a product to go. I love the idea of increasing revenue that has few internal expenses attached to it, and I love the idea of establishing a potential revenue stream.
But:
Why didn't the server mention the promotion and hand us the card?
Why wasn't there anything on the bill highlighting and supporting this activity?
When the manager came over and asked us how our meal was why didn't they say anything?
Why wasn't the card on top of the bill instead buried beneath it so no one noticed?
Certainly I have lots of questions and hoping you can share your comments and answers with me.
I look forward to hearing from you.
PS – Do you like this strategy? Would you buy a product to go from a restaurant if the product was something you liked?