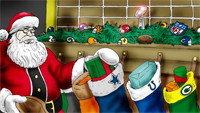 I feel like I am a very giving person. Well to prove that, I'm giving a few gifts to some people who work in the NFL!
To:
Rex Ryan – I give a new soft-spoken personality and a touch of humility. It's great to have confidence and to make a ton of bold predictions, but make sure you can and will back them up. At the end of the day, you didn't get it done for a second straight season and your football team is a mess. The Tim Tebow experiment was the joke of the NFL this year, and frankly, you are responsible for that.
Jerry Jones – I give a dose of reality. Your team isn't that good and hasn't been for many years. You are a marketing genius, but you're not a football talent evaluator. You have a magical stadium and brand. Please give the fans what they want which is a talented GM – one that will allow you to hold the Lombardo Trophy over your head!
Tim Tebow – I give a new position. Sorry, you were the talk of the NFL last year, but you really aren't a quarterback. What you could be is a solid tight end. I wish you the best of luck after you get traded or released during this off-season.
All the other athletes who play in the NFL – My gifts to you are financial analysts ­– analysts who can teach you about money, put you on a budget, and protect you from yourself. Too many athletes are broke a few years after ending their football careers. This is a horrible thing to hear after making millions of dollars in a short amount of time and having a future that isn't so bright.
Your turn:
What do you think of my gifts?
Do you have any of your own that you would like to give?
I look forward to reading your comments.