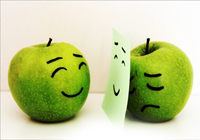 Few weeks ago my sister needed to exchange something at Kohl's and I went along for the ride. Rarely missing an opportunity to shop, I ended up buying a few items. As I was checking out, I was speaking to the cashier named Nancy who was very sweet and outgoing. I had asked her about business and a few other things. She rang up my order and asked me if I had any coupons. I said, "Unfortunately I don't," and she said, "Well now you do," as she proceeded to punch in a coupon that saved me almost $20.00 of my order. After I thanked her for doing that, I asked her two quick questions:
I assume you don't give the coupon to everyone, so how do you determine who you give the coupon to? Before I tell you what she said I believed I knew the answer but wanted to have her say it. She smiled and said, "Well, if you are nice I give the coupon."
My follow up question was what % of people are nice? She smiled again, felt a little uncomfortable and responded with an answer of less than 30%.
I realize that shopping around the holidays can be a pain, have huge lines, stores don't always have the right prices on each item and might be out of stock of the item that you are looking for. Regardless of that – I think everyone should always be nice! No matter what! Too many people take things out on servers at restaurants or cashiers at retail stores.
Being nice is something that should come natural to people and is the right thing to do. And sometimes a surprise can happen that can save you some money.
Has something like this ever happened to you?
Have you experienced unruly customers during the holiday season so far?
I look forward to reading your comments.