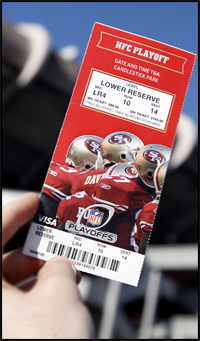 I am sure every reader of the blog has attended a sporting event or Broadway play, and I assume that somewhere along the way someone forgot their tickets.
They were left in your desk drawer!
FedEx never delivered them!
Or some other crazy and fun excuse!
That exact situation happened last month when SC, MC, AVS and myself were headed to the NFC Championship in Atlanta, Georgia. Thankfully we were getting gas and only a mile away from the house when we realized we didn't have one of the most important things needed.
For the record, I have gone to probably over a thousand games in my lifetime, and a few of those times I forgot the tickets. Ugh! Not the greatest feeling to have and can put a damper on things.
The question is, "What did you do?" Remember, this is before you had the tickets on your phone.
How big of fight was there on the way to the game?
Was the blame game at an all-time high that day?
I look forward to hearing some VERY funny and crazy stories.