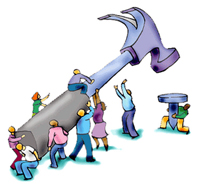 Over the past few years we all heard how the Philadelphia Phillies were going to have a walk in the park – right to the World Series. In fact, some people actually said their pitching staff maybe the BEST of all time. Staying in the sports city of Philadelphia over the last few years, I noticed they were all about the Philadelphia Eagles, who they believed assembled a dream team. Well that dream team went nowhere, won a handful of games and got their coach fired – who by the way had been there for 14 years. Another example of this is the 2012 Boston Red Sox. On paper – wow! On the field – ugh! What a mess!
I would say it is easy to acquire the best talent. Overpaying to me really isn't a strategy.
With a sports team, it's not about talent. It's about how the talent works together – and many teams don't work together well. Without question this applies to sports teams, but does it apply in the same way for a business team?
In the business world sometimes ego's get in the way. Team strategy might not get everyone on board. Individual goals at times can outweigh department or company goals. Some team members need to make sacrifices which isn't easy and that doesn't always happen.
The bottom line is business teams who work together, strategize and make decisions for what is best for the business will succeed.
The teams that disagree behind closed doors and have a unified front after a decision is made are stronger than teams that don't.
Teams that balance short and long term strategy
Now your turn:
What do you believe are the qualities that are needed to have a business team maximize their potential?
Is communication the single most important quality that a successful team needs?
I look forward to reading your comments.