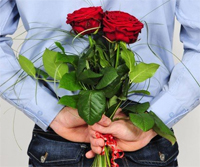 I hope everyone had a great Valentine's Day shared with loved ones that was filled with quiet, tender moments, laughter and happiness. I was reading an article a few days ago that I found very interesting. Here are a few statistics on this year's Valentine's Day:
$18.6 billion will be spent by U.S. consumers on Valentine's gifts
$4.4 billion is spent on diamonds, gold and silver; jewelry is still the big-ticket item for gift-givers
$1.9 billion is spent on flowers
$1.6 billion is spent on candy
$1.5 billion is spent on gift cards
6 million people are planning to receive a proposal on Valentine's Day – way up from 4 million in 2012
$815 million is spent by America on their pets
$130.97 is what the average U.S. consumer plans to spend on candy, cards, gifts and more this year – up from $126.03 last year
$88.78 is the average amount that a woman is spending on Valentine's Day, which is less than half of what men are estimated to spend (an average of $175.61 on jewelry, flowers and a romantic evening out)
Lots of interesting numbers and information and yes, a few numbers caused me to pause and scratch my head.
I was very surprised to read that Americans spent $815 million on their pets.
Did you find that number surprising?
Did you buy gifts for your pets on Valentine's Day?
Were there any other numbers that surprised you?
I look forward to reading your comments.