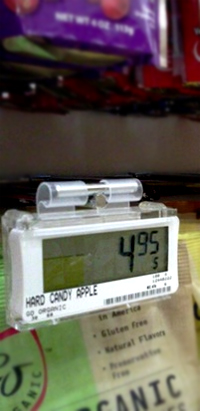 Let me know if this sounds familiar. You buy a gift for a friend or relative and it takes you 12 minutes to peel off the price tag. And once you finally get the price tag off, not only are you left with an ugly smudge mark, you are also almost too embarrassed to give the present… Sound familiar? Or you could pick up a package in store and it doesn't have a price tag on it and there are no prices on the shelf.
Wouldn't life be a little easier with digital pricing? As a consumer, it would make my life a lot easier and as a retailer, doesn't it allow you the opportunity to change prices, quickly at the drop of a hat? That has to be appealing to a retailer and save them a boat load of money.
With today's technology isn't it possible to have a book store, a grocery store or even a large retail store have digital pricing?
Perhaps I am a little crazy but to me this makes perfect sense?
What do you think?
Are there any stores that you have been in that have digital pricing?
Do you think it would be easier to shop in a store like this?
I look forward to reading your comments.