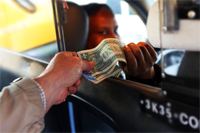 So there I am with my good friend S.S. in a cab on our way to the Consumer Electronics Show in Las Vegas. I look down and notice a $10 bill on the floor of the cab in front of me. Without hesitation I picked up the money and handed it to the cab driver.
His reaction was shocking – or at least shocking to me. He couldn't thank me enough and was very surprised that I gave him the money. He must have thanked me 5 times! After a few minutes the three of us had a philosophical discussion about what most people would have done. We all agreed that more people would say they would give the money back than really would. So I won't ask each of you what you would do.
Before I ask you today's question, S.S. thinks 30% of the people would give the money to the cabby. The cabby believes that less than 10% of the people would give him the money, while I thought it would be more like 40%.
So today's question is what % of the people who found $10 in a cab would give the money to the cab driver.
I look forward to reading your comments.