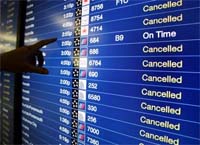 I must admit that I don't enjoy flying as much as I used to. Funny – because many of the people I speak to about this subject feel the exact same way. A few weeks ago I had one of my flights cancelled on American Airlines. Let me start by saying that AA is not only my preferred airline, but I truly believe they do a nice job overall. Anyway, my flight was cancelled because the aircraft was taken out of service and needed to stay another night in Atlanta. This made me think about the next time I need to change my travel arrangements – meaning I need to fly back to Dallas earlier, later or whatever – American Airlines will more than likely charge me a $150.00 change fee. Sound familiar?
Well, can't we change that way of thinking?
If I went to my American Airlines account I would see segments flown this year, miles, and first class upgrades… How about another category called "Free Flight Changes"? What I mean is for every flight that American Airlines cancels, they would give me 1 point. I then get to use that point when I need to make a change to my travel arrangements. Your account can never go negative meaning you have to have a point in your account to get a change fee waived.
I look forward to your thoughts.