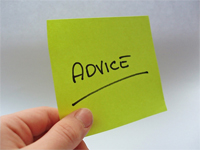 A few weeks ago I got an email from my uncle with some advice from a farmer – a number of them are very sound advice:
Keep skunks and bankers and lawyers at a distance.
Life is simpler when you plow around the stump.
A bumble bee is considerably faster than a John Deere tractor.
Words that soak into your ears are whispered…not yelled.
Meanness don't jes' happen overnight.
Do not corner something that you know is meaner than you.
Most of the stuff people worry about ain't never gonna happen anyway.
Don't judge folks by their relatives.
Remember that silence is sometimes the best answer.
Live a good, honorable life. Then when you get older and think back, you'll enjoy it a second time.
Don't interfere with somethin' that ain't botherin' you none.
If you find yourself in a hole, the first thing to do is stop diggin'.
The biggest troublemaker you'll probably ever have to deal with, watches you from the mirror every mornin'.
Always drink upstream from the herd.
Which one:
I look forward to reading your comments.