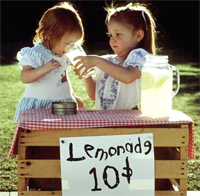 You are 10 or 12 years old and after having another discussion with your parents asking (actually begging) them to give you money for candy, baseball cards or some other unimportant purchase, you finally have a brilliant idea and say, "I don't need your money – I will make my own." Low and behold, you did it.
My question is, "What did you do?"
What was your first entrepreneurial experience as a kid?
How much money did you make?
What did you use the money for?
I look forward to hearing your thoughts.