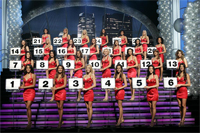 A few months ago I was on a treadmill and watched an episode of the Price is Right. I always loved the show back in the day but haven't watched it in a very long time. I must admit I was surprised and excited to see a pregnant model. I thought it was great that the show included a woman who was pregnant and had her in the same color and style of dress with a little higher neckline.
I don't ever recall seeing a pregnant model on a show where there were models – maybe I just missed that??
Of course it gave me a moment to pause and wonder why we haven't seen models with visible tattoos. Clearly, tattoos are very common in today's society and have been for a while, but why don't we have TV shows that show that? Why doesn't the show Deal or No Deal which has 26 models have a model or two that shows a tattoo? A tattoo on their arm/leg – isn't that the norm now?
I think they should and seeing a model that was pregnant got me thinking about it.
Why don't shows allow models to show tattoos?
I look forward to reading your comments.