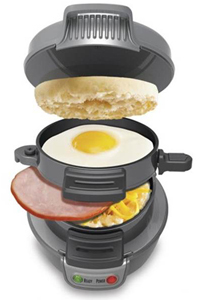 They say that breakfast is the most important meal of the day. I am sure most of us go out and buy breakfast sandwiches. I know I do especially when I am traveling. Well, check out Hamilton Beach's Breakfast Sandwich Maker!
The Breakfast Sandwich maker makes multi-tasking a priority. The tower of chow cooks your egg in one compartment on the top, warms a slice of pre-cooked meat in the middle, and warms your cheese and other assorted fillings in a spot of the bottom – all between two English muffins for easy removal and in less than 5 minutes!
This new cooking experience goes on the market later this month for $30!
I am in! I think this is a great idea and can't wait to use this for the entire family.
Are you as excited as I am?
If I was selling them would you buy one?
I look forward to reading your comments.