A few weeks ago I was reading the Technorati's 2013 Digital Influence Report and came across a finding that I thought was not only interesting but surprising.
Blogs Outrank Social Networks for Consumer Influence: New Research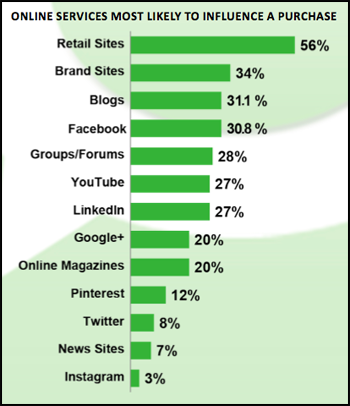 The report that came out March 6 stated that "consumers are turning to blogs when looking to make a purchase." In fact, blogs rank favorably with consumers for trust, popularity and even influence.
The report found that blogs are now the third most influential digital resource (31%) when making overall purchases, behind retail sites (56%) and brand sites (34%).
I must admit I thought Facebook & Pinterest would certainly be higher than a blog. I couldn't have been more wrong.
Were you surprised by this finding?
I have been writing a blog for 6 ½ years. What purchases has the blog influenced for you?
Why are blogs so influential?
What influences you the most when you make a purchase?
I look forward to reading your comments.