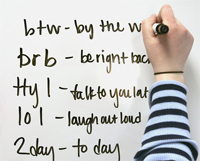 Most of us have heard acronyms over and over and know what they mean, but the real question – and it will be a fun one – do you know what they stand for?
Today's quiz will involve 14 common acronyms that you have heard over and over again.
Do you know what they stand for?
You will be on the honor system. All you need to do is say yes or no that you know what it is.
What I'm asking you to do is look at the acronym, take 5 or so seconds, and say yes or no to "I know what it stands for."
I promise this will be fun and you will learn something for sure!
Good luck and who knows, we may even give out a prize! And yes, the quiz will be timed so please don't use Google to help.
Thanks for playing. We will post the correct answers on Friday, April 19.