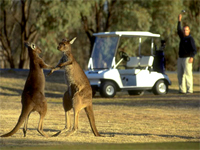 When I think of a round of golf, I think of friends, blue skies, a slight breeze, stories and of course bad shots – in fact, plenty of bad shots. Recently I saw a picture for the Women's Australian Open that brought a smile to my face. Apparently a few weeks ago during the tournament a herd of kangaroos visited the fairway and play had to stop until all of them hopped away!
I started to think about what animals I have seen while I was playing golf and the list was pretty long. So let me start the ball rolling with my list:
Beaver – which may have been the cutest and funniest animal I have ever seen!
Now your turn…
What animals have you seen on the golf course?
Did you ever stumble upon on animal and get scared?
Any funny stories that you would like to share?
I look forward to reading your comments.