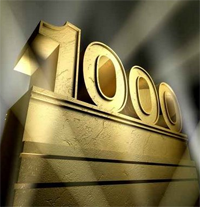 I can still remember the discussion of the staff trying to convince me to start a blog. For weeks and perhaps months, I said no. No matter how they asked or what they said, the answer still was no. Well here we are 6 ½ years later and today this is my 1,000 post of this blog. By the way I should have said "yes" sooner and this post would be my 1,100.
Amazing! I have learned so much during this time. Even though I wrote every post unless the title states "guest writer", there are so many people who work behind the scenes to make this blog a reality. Most blogs come and go or have large gaps of time between posts. Our team doesn't let that happen! The internal team of S.H., B.T, E.L. and especially C.D. is as good as it gets. They review everything I write for grammar, spelling and flow. They program questionnaires when necessary and find the appropriate pictures. They do a great job every week – THANKS!
The blog started August 1, 2006. During this time I hope the readers have learned a few things, joined in on a discussion or two and enjoyed some of the crazy contests we have had.
Moving forward I promise to continue with crazy, passionate thoughts and the same energy that I have always had. One of the things I will be adding is having my kids as guest writers once in a while. I hope to have them write their first post in the next month.
Thank you for reading, sharing, learning and expressing your thoughts. That is what life and this blog is all about…