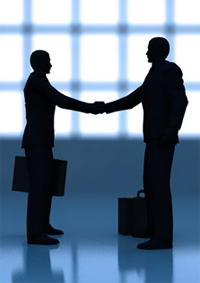 When I started out in this great industry (way, way, way back in the day) every client was called… a client. Now that isn't always the case. Companies have some clients and they also have some partners.
The question is: What are the definitions of each category and do companies always use the right label to describe a relationship.
Here is my definition:
Client: A client to me is a company that you do business with, they pay you for your services and those services are pretty much transactional. In a lot of ways this can be viewed as a commodity business. My dry cleaner, cable provider would consider me a client.
Partner: A partner to me is a relationship that is very important on both sides. Both parties see and understand the benefits and tend to be very loyal to the relationship. A partner is a very important relationship and one that allows you from time to time to call in a favor. Whether that favor is a discount in price or a better timeline. You have a vested interest in the relationship and when there is an issue or mistake, no one goes off the deep handle. The situation is discussed in a professional manner and a resolution is found very quickly. I would like to think that I would be considered a partner of our handyman Gary and companies like Marriott & American Airlines.
Anyone who is in a leadership position would like all of their clients to be viewed as a partner, but in reality that isn't the case. By putting the wrong label on a relationship you are potentially giving yourself a false sense of security. And yes, we have done this at M/A/R/C Research. By calling a client a partner when in reality they are a client, you are viewing yourself much more important than you really are to them and very quickly the relationship can go away. Longevity doesn't always mean a client is a partner – and yes, we have made that mistake as well.
By not putting the right label on a relationship you can't maximize your opportunity and value to that company. Take a few minutes today and take 20 companies you do business with and put them into one of the two buckets. Take a deep breathe, a step back and I promise you will be surprised by the results.
And after you do that, let me know what you found and changes that you might make. But first,
What is your definition of a client?
What is your definition of a partner?
I look forward to reading your comments.
PS. We actually did this last year and it helped us go deeper with some of our relationships and turned four clients into partners!