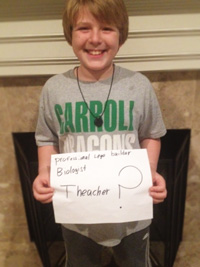 What did you want to be when you were growing up? For me, I have many choices and I would like you to help me pick.
My choices are:
1. Professional Lego Builder – I would like to do this because I like to build with Legos. My favorite Legos are the 1 in 3 packs. The 1 in 3 packs mean that there are directions for 3 different figures in 1 box. Do you like to build Legos?
2. Biologist – I would like to be a biologist because I like learning new things. What I mostly want to learn about are reptiles. Do you have any reptile stories for me? Do you own any reptiles?
3. Theacher – I would like to be a teacher because while I am teaching I can learn new things, too. It is cool to watch new videos and have people learn about what we are studying. The subject I would like to teach is math. Do you have any hard math problems for me? Not too hard since I am in 3rd grade.
I look forward to seeing your comments.