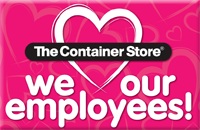 A few weeks ago I was flying into DFW Airport (the best airport in the world) and as we were flying over a warehouse, I saw a message on the roof in big letters: Container Store Loves Our Employees. Of course I paused and thought about the message. I didn't relate it to the Container Store but rather to our company, the company I work for and am President of. So I asked myself, "Do we love our employees?" I quickly came up with a "Yes" and then asked myself a follow up question – "Do we show it?"
I didn't want to just go with a "Yes" but rather a list of things that I believe we do that illustrates how we feel. Here are the first 6 I came up with:
We have summer hours – meaning that from Memorial Day to Labor Day we work an extra hour Monday thru Thursday and get off at 1:00 on Friday.
I personally send every member of the team an email on their birthday & company anniversary and copy their boss.
Casual dress days on Friday
I have an open door policy and I am very accessible. If anyone wants to talk, I am available and will listen.
We have a business update every month and communicate to the entire company what is going on, review current strategy and financial numbers.
We recognize employees thru a number of programs we have in place. Those awards include Employee of the Month/Year, Select Award, Way To Go and Dine On Dubrow.
Company atmosphere and staff is and has always been a top priority of mine. I truly believe a happy staff leads to happy clients – and without clients you really don't have a business.
Your turn:
How do you show your staff that you love them?
What special things does your company do to provide a great work environment?
What is the nicest thing anyone ever did for you at work?
I look forward to reading your comments.