A few weeks ago my son who is in the third grade got a note from a secret admirer. The note is below and is very cute. He is so funny about it as well – probably a little embarrassed, flattered and excited all at the same time. Those are my words – not his – since he is probably too young to have big words like those in his vocabulary. Time to close your eyes and go back to elementary and middle school.
Did you have a secret admirer?
Did you send a message to someone saying you were their secret admirer?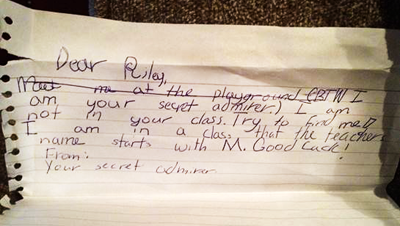 I look forward to reading your comments.