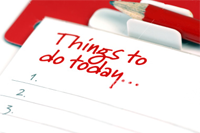 I tend to be a creature of habit. I am a little bit of a routine guy and really try to live my life that way. Here are a number of things I try and do each and every day!
I try and:
Call my parents
Eat oatmeal
Take my vitamins
Drink two soda's and NOT more than three
Get to work by 6:15am
Leave work by 5:15pm
Think of ways to move the business forward
Since 7 is one of my favorite numbers I will stop there.
Your turn:
I try and ____________ every day?
I look forward to reading your comments.