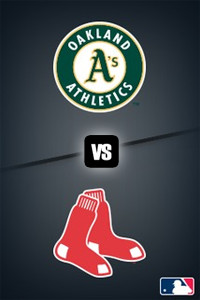 June 7, 2007 was a special day for me. The sun was shining; I was in one of my favorite cities, San Francisco, and at one of my favorite spots – a baseball stadium! No, it wasn't to see the Giants play (too bad because I love that stadium). It was to attend the Oakland A's (remember S.S., A.H., J.L.) take on my beloved Boston Red Sox. Joe Blanton vs. Curt Schilling, the bloody sock guy himself!
The Red Sox were winning 1-0 thanks to a David Ortiz home run as we entered the bottom of the 9th. One and two outs passed very quickly and now the place is going crazy since Curt Schilling hasn't given up a hit in 8 2/3 innings. A no hitter!!!! Wow! And I am here to witness it! To put this in perspective, I estimate I have attended over 800 baseball games in my life and I have never been this close. In fact in the history of baseball, it has happened less than 300 times.
To say this is special is an understatement. As Schilling gets ready to throw his 95th pitch, he shakes off Jason Varitek and then as luck would have it, Shannon Stewart delivers the pitch into right field for a single… and breaking up the no hit bid!
Seven years later I still haven't seen a no-hitter. In fact, I may never see one.
The questions are:
Have you ever seen a no-hitter in person?
Have you ever watched a no hitter on TV?
Has your child ever thrown a no–hitter?
I look forward to your comments and hearing your memories.