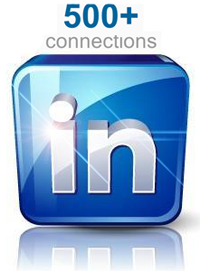 Anyone who knows me or reads the blog is aware that I am a huge fan of LinkedIn. I visit the site daily, make new connections after each meeting or conference I attend and use it as a valuable business tool. Perhaps, it is the most impressive, important free tool that has ever been available in the business world.
I believe the highest listing that LinkedIn has is 500+. I know of a number of people who have more but for some reason it tops out at 500+.
Why is that? I am sure they don't want to say 700+, but why not have 1000+ or 2500+? As of today I have over 3900 connections with a goal to reach 5,000 within a year.
By that time I hope that LinkedIn has new labels.
Should they have other distinctions?
I look forward to reading your comments.