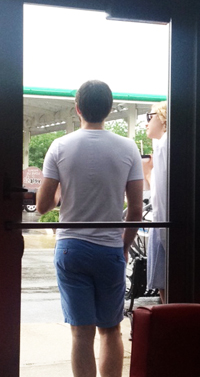 A few weeks ago I was in Chicago having lunch with some friends when I noticed this couple that was pretty much pressed up against the door. Since it was pouring out, the couple was trying to stay as dry as possible and get under the awning outside. I looked a little closer and noticed the guy was standing there in a tee shirt and had just given his outside button down shirt to his friend or significant other. I thought that was really cool and special. It got me to think in general with everyone moving so quickly these days and pretty much in a hurry… is everyone being as respectful as they once were?
Meaning, are people waiting to hold the door open for someone?
Are they holding the elevator for 5 seconds if they see someone coming?
Are they racing to cut the line?
So, I ask you. Is chivalry a thing of the past?
Because everyone is in such a hurry is being nice a thing of the past?
What was the last nice thing a total stranger did for you?
I look forward to reading your comments.