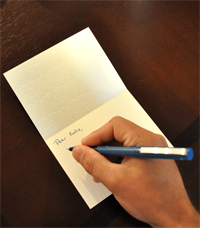 I Say It's Time To Go Back To The Old Fashion Way Of Saying Thank You!
I would say on the average I get about 200 emails a day. Some of which are very important, meaningful and frankly missed because I overlooked them. For the past few years I have noticed a trend. I have been getting a ton of thank you emails. Some of those emails are thanking me for interviewing a potential candidate while others were for helping people out. In comparison I get very few handwritten thank you letters. For the few that send them I say a job well done! I say way to stand out and frankly I think more highly of you by taking the time and putting in the extra effort.
You may ask yourself why that is. Well for starters, you need to have my address, you need to have a stamp and you need to have paper but most of all, you need to know what to say. I would bet lots of people freeze when they are trying to write a handwritten note.
If you really want to have a more meaningful impact of someone – I say it's back to the old fashion way of saying thank you with a handwritten card!
What do you say?
Do you feel more important when you receive a handwritten communication?
Do you ever write handwritten cards?
Do you think that emails are way too informal these days?
I look forward to reading your comments.