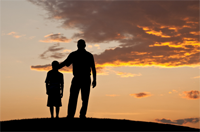 It's so funny, I remember growing up and making fun of my dad's taste in music… Now my kids (and others) do that to me.
For years my dad would love to go outside and cut shrubs and take care of the landscaping… Speed up 30+ years and now I do that at my house.
One of my fondest memories of hanging out with my dad was always watching war movies together. Last month I must have watched 3-4 old John Wayne movies and my kids threatened to hide the clicker. I would love to watch a John Wayne war movie with my kids.
And of course my dad wasn't and still isn't a good driver. Well let's just say that yours truly isn't a good driver and most people continue to make fun of me.
I guess I have turned into my dad!
I recently had a conversation with my dad regarding his retirement. For those of you who don't know, he was very fortunate and able to retire at 51. I asked him if he had to do things all over again, would he have done anything different. My thought was he would have said he would have worked a few more years. I couldn't have been anymore wrong. He actually said he would have retired at 46 instead.
The beauty about my relationship with my dad is that I am still learning from him. My dad was always a reader, he always had a book near him and before he finished up that one he had already started another one. In that way I am a little bit different, I tend to learn by asking a lot of questions.
I think as I get older I will read more and then have another one of my dad's great traits rub off on me.
I guess I have turned into my dad and you know what…… that is the greatest compliment I could ever give him.
Thanks JD!
I love you more and more each day.
Happy Father's Day!