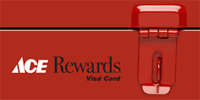 Often I have been going to Ace Hardware. It is less than a mile from the house, the staff is very friendly and the store is perfect for me when I need a few quick items like light bulbs, batteries or some mulch. A few weeks ago was no different. I had my 2-3 items and the cashier, Sherri, asked me if I wanted to get an Ace Hardware Credit card. I responded with a "no thank you" and after 2-3 minutes we finished our transaction and I was on my way. Sorry Sherri, you could have done a little better. I am sure there was some type of promotion at the company that if you get 5 people to sign up then you get a spiff or something… or perhaps the manager in the daily team meeting said "I want everyone to be asked if they would like an Ace Credit Card." Maybe that was the story or at least close to it.
Either way, you could have done more. When you brought up the credit card, why not stress the benefits? Why not mention that thousands of customers are saving money every day and reaping awards. Would you like to also reap the awards? Perhaps she should have said in the daily meeting to the manager – what is the most effective way to have customers sign up for the credit card? Are there best practices or techniques that you can teach us that can help?
Who knows?
Maybe some of that would work.
But just asking customers if they want an Ace Hardware Credit Card (to me) is a total waste of time without a little bit of strategy behind the ask.
How good of a salesperson was the cashier when you signed up for a retail store credit card?
Do you remember any special sales techniques they used?
I look forward to reading your comments.