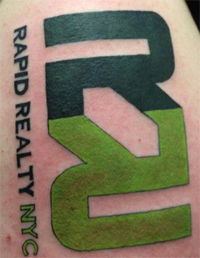 Last month I was reading an article that I found very interesting. Rapid Realty in New York is giving incentives to employees (40 so far) who have gotten a tattoo with their company logo.
The CEO says their staff is very passionate about the brand and one of the reasons that people do it, but I am sure some additional dollars certainly help as well. Anyone who gets a tattoo gets an extra 15% commission.
Well, let's test their theory a little bit.
Would you get a tattoo of your company logo if you got $1,000?
What would your price be to get a tattoo with your company logo?
What do you think of this strategy?
When I think of passionate brands I quickly build a list that includes Starbucks & Apple. I wonder if those companies have or would ever have such a policy?
I look forward to reading your comments.