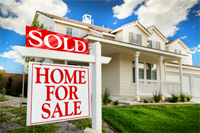 Last month my cousin (good luck A.L.) started a new job in a new industry. He's a smart guy and solid salesperson but other than buying or selling his house, he isn't an expert in real estate. Rather, he's a guy who has interest in selling real estate and is now doing just that in beautiful Boston, MA.
A few weeks ago, his wife (nice teamwork J.L.) sent out an email announcing their business and asked for people to keep them in kind if they were thinking about buying or selling a house. On his third day he went on his first appointment and is close to getting his first listing. Sounds like some early success to me!
Many of the readers have bought/sold homes and probably know some great realtors. I'm sure some have had great experiences and perhaps some have had not-so-fantastic experiences with realtors.
I was hoping we could share and build a list of things that he could use as he is building his business.
From a buyer standpoint:
What is the best approach a realtor took to get your listing?
Was there a marketing activity that a realtor did that really caught your eye?
Why did you give your business to the realtor you picked?
From a realtor standpoint:
Was there value in attending Chamber of Commerce Meetings?
How important is it to partner with mortgage companies?
Where is the best place for leads?
Please take a minute and respond. I am excited to have your comments help him in his new business.
Thanks in advance.