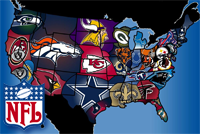 In a few weeks the first preseason football game of the 2013-2014 NFL season will take place and as we have done the past 3 years, we will be having a football pool on the blog. As of now, we have weekly winners and have two cumulative winners. All of those winners participate in a championship week where one champion is crowned.
We have always tried to add a few things over the years and I am curious if you think we should make any other changes. Last year there were Thursday games and sometimes it was hard to get your picks in.
Should we get rid of the Thursday game and have the deadline be on Sunday?
For anyone who enters their picks after the Thursday game, should we count it as a loss and let them play the rest of the games?
Should we have some winners broken down by age? Gender? Or somehow should we have a couple's pool?
I would rather not make it to complicated but if there are some small, fun changes that are easy to administer and aren't too costly, I would love to hear those suggestions.
I look forward to reading your comments.