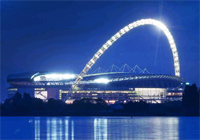 I was thinking about how much I truly love Fenway Park and was wondering if others enjoy it as much as I do. Do non-fans of the Red Sox attend a game just to check out the stadium and atmosphere? That sort of question rolled around in my brain, and then I started to think about what stadiums I like to visit even though I care very little, if any, about who is playing. Here is my list so far:
Dodger Stadium – wow – most people don't realize but it is the third oldest baseball stadium
Chesapeake Energy Arena – home of the Oklahoma Thunder – special place, stadium you can walk to, and every seat is close to the action
AT&T Park – home of the SF Giants – wow – still impressive could go every week!
Cowboy Stadium – I would go to watch Pop Warner football – size still amazes me
United Center – home of the Chicago Bulls/Blackhawks – amazing, intense feeling
Your turn.
What stadiums do you go to if your team isn't playing?
What do you think of my list?
What stadiums do you recommend that I add to my list?
I look forward to reading your comments.