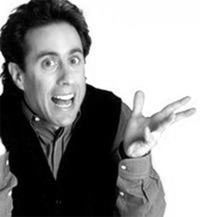 I love Seinfeld. Perhaps it is the simplicity of the show, maybe it is because I can relate to so many of the episodes or maybe the show is just funny – plainly and simply funny! All the characters are hysterical but I really enjoy Jerry Seinfeld. He is such a witty comedian, doesn't use or need bad words to be funny. He has found a way to tell stories or describe situations that people can relate to in a clean and funny way.
I have seen him twice – both times with friends and in Vegas. And both times, he wasn't very good. For some reason, the shtick that was so funny on TV didn't work live. The star of a highly rated TV sitcom for so many years just wasn't that funny! Perhaps it was his delivery. Not sure what it was but when I heard he was coming to Dallas, I didn't even think twice. I had zero, nada, no interest in seeing him live.
Has this happened to you?
Have you seen Jerry Seinfeld live?
Do you feel the same way I do?
Are there acts that you love on TV or singers that you love their music that you just don't want to go see live?
I look forward to reading your comments.