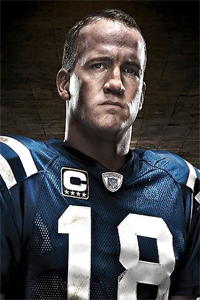 Peyton Manning is clearly a great football player. He won national awards in high school, college and in the NFL. He has so many awards that it would be impossible to list them all but here are a few from the NFL:
NFL MVP (2004, 2008, 2009)
12× Pro Bowl
5× First-team All-Pro
3× Second-team All-Pro
1998 NFL All-Rookie First Team
2004 AFC Offensive Player of the Year
2004 Fedex Express Player of the Year
2005 Walter Payton Man of the Year Award
2005 Byron "Whizzer" White Humanitarian Award
2007 Super Bowl MVP
22012 NFL Comeback Player of the Year
In addition Peyton holds over 40 regular season records and a ton of playoff records.
Even though I have never met Peyton, he appears to be a soft spoken player with a competitive edge that seems to be his fuel. He is definitely a student of the game and cares deeply about how it is played and the city he represents.
Last night I saw another interview by Peyton. Even though the games don't matter right now (since it is pre-season) he still cares, he still wants and needs to get better, and he still watches film and dissects it. He has a new target, Wes Welker. All he focuses on is getting better and getting on the same page with Wes.
I believe this great football person is even greater off the field. He does the right thing every time. He played for the Indianapolis Colts for his entire career, had an injury and the team basically said, "No we don't want you." Most players would have not only been hurt but expressed it in the media and it would have gotten messy and ugly. Peyton never did that. He always entrenches himself in the community he lives and seems to want to help everyone every day. There is never a crack in his armor. He is a true professional and seems to be a better person.
When you talk about pro athletes being role models or people you can look up to – how many are there that you can really put on a list? I would argue the list is tiny!
I also would say that Peyton Manning's name is at the top of the list!!
So I ask you… is Peyton Manning better off the field than on??
I look forward to your comments.