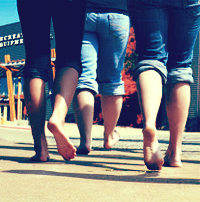 A few weeks ago I was in Houston for a fun trip to the Johnson Space Center and the Astros/Rangers game. As I was having breakfast with the kids in the lobby restaurant of the hotel, I noticed that no less than 10 (at least half that were over the age of 30) people were having breakfast and had the same thing on their feet.
Sandals… nope! Socks nope! Sneakers nope! Nothing… YUP!
None of them were wearing anything in the lobby of a hotel which is public. I love to walk around with bare feet – I really do. At the pool at my house, in my backyard, lots of places –none of which are public!
Of course the next morning my kids asked if they could go with bare feet and I said absolutely no. But dad everyone else is. Why can't we…?
What am I missing?
A public place… I say no to bare feet.
Do you really need to post signs or isn't that stating the obvious?
Does it bother you or am I alone in that boat?
I look forward to reading your comments.