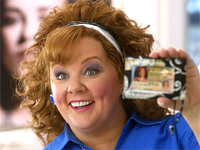 I think Melissa McCarthy is 100% hysterical. While Melissa might not be the thinnest actress in Hollywood, the most beautiful or the most well-known – to me – she might be the funniest!
She caught my attention when I saw Bridesmaids and frankly, I couldn't wait to see her in Identity Thief and Heat. Frankly, she knows how to deliver lines. In fact, her delivery is almost perfect every time! She knows how funny she is and is probably a ton of fun to be around. I will bet that the other actors, actresses and staff on the set love to work with her. She seems like she enjoys life every day and is extremely comfortable in her skin.
A few weeks ago I DVR'd her on Saturday Night Live and thought a number of the skits were the best I had seen in years.
I say, go Melissa go! I hope you have a long career making movies and I would love to see you doing stand-up.
Are you a fan of Melissa McCarthy?
Isn't she just hysterical?
What is your favorite Melissa McCarthy movie?
I look forward to reading your comments.