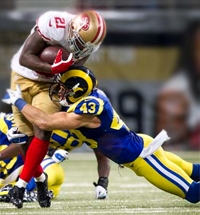 Congratulations to Karen Dawson who won in the biggest landslide in the pools history. Her 16-0 week is incredible since the average participant had 8.20 wins. Karen beat out 283 other participants and joins John Sadler & Steve Kennedy who has qualified for championship week. Karen also wins a $50 American Express gift card.
To see the current standings, click here. The results page shows this week's current standings as well as the cumulative rankings.
The fourth week had 282 participants and the winner will receive $50. Remember, the weekly winners will be given a spot in the grand prize pool and join Karen, John & Steve for an opportunity to win $500 and of course bragging rights for the next 6 months. In addition, the two people who have the highest cumulative score (these standings will be updated weekly) will be given a spot in the grand prize pool along with the weekly winners. As of week 3, Steve Kennedy is the leader with 38 wins.
Please use the same name and email address when you enter your picks. This makes it much easier for us to track the cumulative scores.
All picks need to be in by 5:00pm (CST) on Thursday, October 3.
Click here to participate in this week's pool.
Feel free to share the link and have friends, colleague, relatives, kids and anyone else you want join the pool.
Good luck to all.
PS. Fall is the favorite season – (44%) followed by summer (29%).