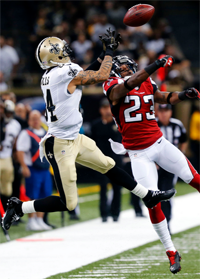 Congratulations to Steve Kennedy who beat out 286 participants and won the first week of the pool and the $50 American Express gift card. In addition, Steve is the first person to qualify for the championship week. Even though my New England Patriots won last night in a very ugly game, a game that 94% of the participants picked correctly, according to the participants the toughest game to pick this week is the winner of the Buffalo Bills/Carolina Panthers game.
To see the current standings, click here. The results page shows this week's current standings as well as the cumulative rankings.
The second week we had 284 participants and the winner will receive $50. Remember, the weekly winners will be given a spot in the grand prize pool which will be during week 17 for an opportunity to win $500 and of course bragging rights for the next 6 months. In addition, the two people who have the highest cumulative score (these standings will be updated weekly) will be given a spot in the grand prize pool along with the weekly winners.
All picks need to be in by 5:00pm (CST) on Thursday, September 19.
Click here to participate in this week's pool.
Feel free to share the link and have friends, colleague, relatives, kids and anyone else you want join the pool.
Good luck to all.
PS. Participants are represented from 32 states, 2 people from Canada and 2 from Spain.