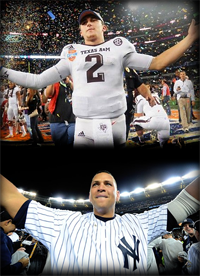 Alex Rodriguez (AROD) has been a superstar as long as I can remember. He was the 1st overall pick in the 1993 draft by the Seattle Mariners and statistically has amazing numbers – numbers that few have ever had and most couldn't even imagine having. Johnny Manziel (Johnny Football) came into the national sports scene about a year ago when, as a freshman, led his team to an upset of Alabama and parlayed that into a Heisman trophy winner – something that has NEVER been done.
This summer has been a challenge for both players. It seems like every day you would read, hear or see a story that was very unflattering to one or both of these players. I must admit that I am very tired of both players.
AROD – has amazing talent, bright, million dollar smile but has done so many foolish and unprofessional things it is almost a joke at this point. I can get over the fight with Jason Varitek of the Red Sox. Ok, I can sort of overlook the foolishness of knocking the glove and ball out of Clay Bucholz of the Red Sox or even screaming in the ear of John McDonald of the Toronto Blue Jays – saying I got it as he was rounding the bases which forced the ball to drop to the ground. As a NY Yankee fan, can you overlook him writing his phone number on a baseball and giving to a model in the stands during a playoff game? There are a lot of unwritten rules in baseball and it appears that AROD seems to break them. He also breaks the written rules. Yes, he has used steroids. Yes, he has worn out his welcome not only in NY but sadly in baseball. This winter will be an ugly display of a spoiled sports star taking on Major league Baseball in the press. He's the front and center everyday of every broadcast. This is disappointing and something I don't want to even watch for a second.
Johnny Football – not sure where I start. Did he sign autographs for money or not? I'm not sure and frankly that doesn't matter to me. He won the Heisman last year and really needs to elevate his game… not on the football field, not in a stadium but off the football field – during interviews and during his free time. Yes, he is under a microscope that comes with winning the Heisman. Hey Johnny, if you don't want to be under that type of scrutiny pick another profession. Getting asked to leave or thrown out of the Manning QB camp this summer was ridiculous. Eli, Peyton and Archie are very well respected and that never should have happened. Taunting opponents sadly happens in sports, probably more than ever – I get it but Johnny football you need to be above that. I truly hope you change.
So the debate continues… who am I more tired of?
My answer is AROD! Not because he plays for the NY Yankees but because he has been a professional athlete for 20 years and should know better. He should watch how Derek Jeter conducts himself on and off the field and mirror that. AROD will NEVER go into the Hall of Fame and he will be considered a joke for a very long time. What America wants is the truth. Admit your faults/mistakes and move on – just ask Andy Petitte. America is forgiving unless you fight back and ask for forgiveness way after the fact. Just ask Ryan Braun.
AROD I am really tired of your act – please go away… And go away quietly and not ruin the game of baseball, a game that I truly love.
Who are you more tired of?
Jason, Steve, Michael, Rooster: Do you agree with my position?
I look forward to reading your comments.