It's very early in Dallas on this brisk morning and one of the first articles I read included a chart that said 20% of American's can't access Facebook at work, basically employers have blocked it.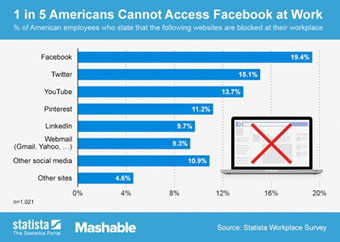 I was very surprised to read that the number was that high. Yes, I have seen the staff here and other offices on Facebook during the day. In fact I will do it once in a while as well. I wouldn't miss it at all but I wonder if others would.
Does your company block you from getting on Facebook or any other social media sites?
As a manager or owner have you thought about blocking sites?
How much would you miss it if Facebook was blocked?
I look forward to reading your comments.