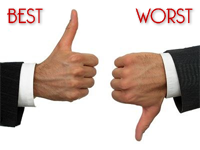 I must admit that 2013 has been a very odd year. Not a ton of consistency and months that usually are solid are weak; months that are usually weak are the best.
With 9 months in the record books for 2013, our weakest month was February and our best month was July, of all months, July! I still can't believe it. Traditionally July is a soft month and a month that you most definitely want to forget. Not this year! July was the best!
I am not looking for numbers just a few quick answers.
Has your year been as odd as ours?
What month was your best so far?
What month was your weakest year to date?
Look forward to reading your comments.
PS: I hope you feel comfortable answering these questions.