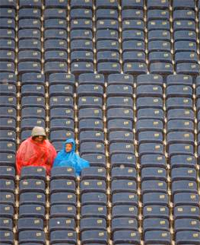 As I am watching the Boston Red Sox beat the Tampa Bay Rays in game two of the ALDS, I can't help but wonder how few fans will show up for game 3. I was thinking how easy it is to get a ticket and how empty the Tampa Bay stadium will probably be.
Let's take a quick look at the numbers in 2012. The Rays had 1,559,681 fans show up to watch them play, the lowest in the major leagues. You would think that a playoff team in 2013 would be able to exceed those paltry numbers. In 2013 the Rays did worse and averaged 18,646 fans to every baseball games. In fact in 2013 there were only 30,000 fans in the stands for opening day and 6 other games! Are you kidding me? They play in the same division as the NY Yankees and the Boston Red Sox, that alone should draw tens of thousands of fans.
There is no question that Tampa Bay should not have a baseball team. The real question is: Where should they move to? Here are a couple of ideas:
Nashville, Tennessee – a great and upcoming city. They have fantastic restaurants, seem to have a passion for life and I would bet they would support a major league baseball team.
Raleigh, North Carolina – Yes, it is best known as a college city but with a population of almost 450,000 people and a stone's throw away from the famed Durham Bulls, they could support a team and beat what the current Rays are drawing in Tampa Bay.
Ok, I have tossed out two different choices for them to move to.
What do you think of my ideas?
I would love to hear from some Tamp Bay Ray fans who can explain what is going on and why they don't draw.
I look forward to reading your comments.