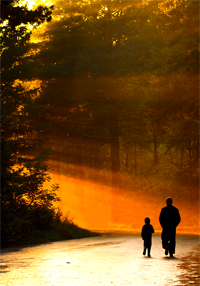 Like all of you I am sure you love and look up to your dad. I always wanted to be an accountant because of my dad. I am very quick with numbers, stoic and competitive, all because of my dad.
There have been so many times during his life that I have been proud of him. During his retirement at the young age of 51, I was fortunate to be one of the people who roasted him in front of hundreds of friends and business contacts. He defended this great country and had a very powerful right arm and could toss a baseball so fast that my hand would hurt trying to catch it. Over the years he has been a great mentor to many people and truly has affected thousands of people in a positive way.
He is and continues to be a great dad, has a love for animals and loves to garden.
In the past few years his memory isn't what it used to be, he does repeat himself a lot now and that has caused his neurologist to tell him that his driving days were over. The neurologist stressed that it was dangerous because his reaction time was very slow. In some ways I actually think he knew before the doctor said anything. Who knows? Maybe he was relieved. A few weeks prior he bought himself a new car. I'm not exactly sure why. Perhaps it was a gift for my mom without saying anything. Yes, he was hitting a number of curbs and made me wait at the airport for over an hour because he kept getting lost.
Not once since the neurologist gave my dad the news has he said anything. The keys are gone, reduced to driving a golf cart. He hasn't complained at all, just accepted it as a progression of life and moved on.
How many people would do that?
Will that be my reaction when it happens to me?
Probably not, but then again I am not my dad, just a fraction of him.
Thanks dad for making me so proud!
Has this happened to your parents?
How did they handle the situation?
I look forward to reading your comments.